BE A RESTAURANT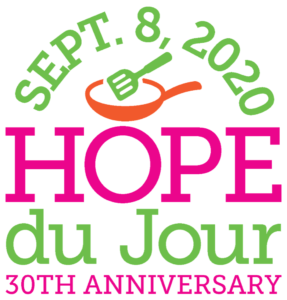 Join us on Tuesday, September 8th for the 30th annual Hope du Jour, benefitting Crisis Control Ministry, Forsyth County's largest emergency assistance provider.
Hope du Jour is Crisis Control's signature fundraising event. In 2019, this well-established community tradition brought more than 135 participating restaurants and local diners together for a day of "feel-good eating." Hope du Jour is advertised in the Winston-Salem Journal and other local papers, outdoor media, WXII TV, WTOB radio, and banner and avenue signs. All Hope du Jour donations stay in Forsyth County and help Crisis Control assist people who are having difficulty with housing payments, utilities, food and medication.
To sign up, complete the participation by March 20th to receive full publicity. By submitting this form, you are agreeing to donate a percentage of your sales on September 8th to Crisis Control Ministry. Traditionally, we ask you donate 10% of your sales but because of the pandemic, we are asking to donate whatever percentage you can. Hope du Jour promotional materials will be delivered to your restaurant in mid-August. Awards will be presented to the restaurant that raises the most money, the first-time participant that raises the most money, and the restaurant with the largest percentage increase over their 2019 donation.
Sign up by March 20th and you will receive:
• Your name in ads in the Winston-Salem Journal and other publicity.
• Your name on the hopedujour.org website linked to your site through January 31, 2021.
• Posters, table tents, buttons, yard signs and graphics for your Hope du Jour campaign.
• Your name on emails sent to our supporters.
• Your name on fliers distributed to 500+ congregations, businesses and groups.
Contact Abbey at ariesett@crisiscontrol.org or 336.770.1621 with any questions.
We are excited to have you onboard!
---