Become a Hope du Jour Restaurant!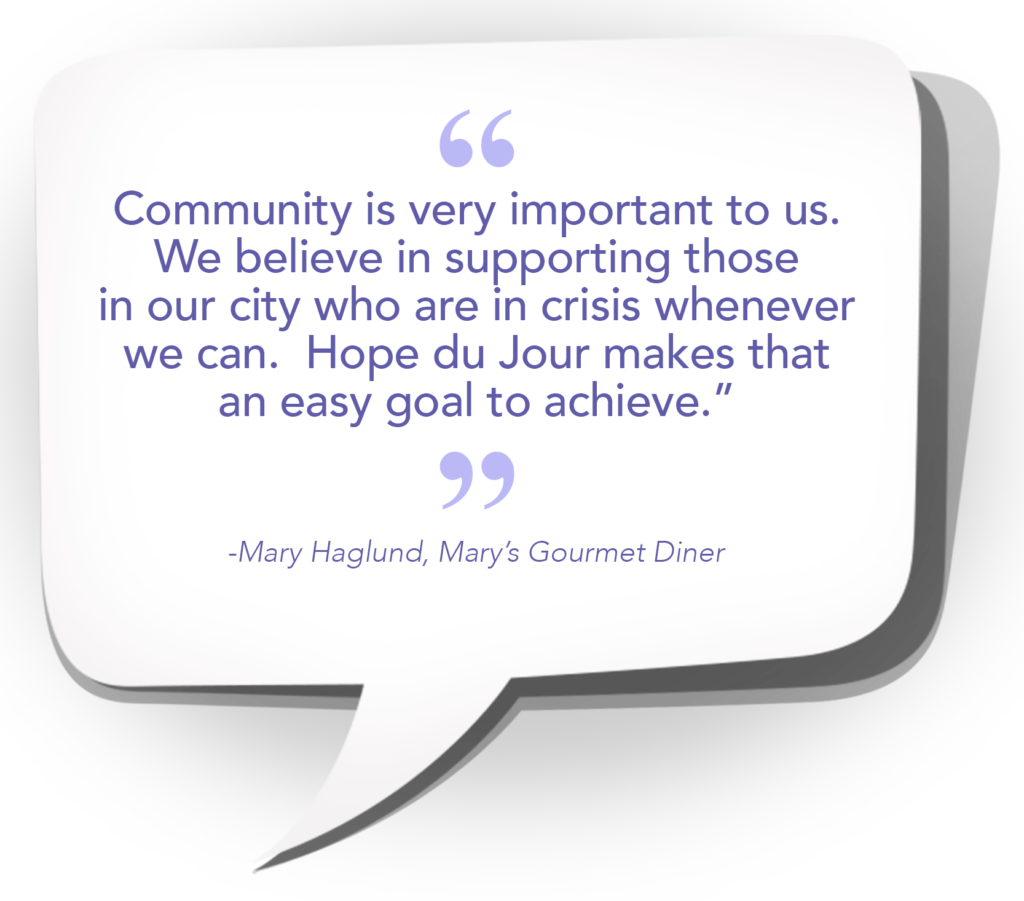 You are invited to participate in the 28th annual Hope du Jour, benefitting Crisis Control Ministry, Forsyth County's largest emergency assistance provider. We hope that you will join us for this exciting event.
Event Overview: Hope du Jour is held on the first Tuesday every May and is Crisis Control Ministry's signature fundraising event. In 2017, this well-established community tradition brought 140 participating restaurants and local diners together for a day of "feel-good eating." Some of our loyal community supporters organize lunch and dinner parties at participating restaurants to raise awareness of the cause and to promote their favorite dining spots.
Proceeds: All Hope du Jour donations stay local and support Crisis Control Ministry as we assist people who are having difficulty meeting essential life needs: mortgage/rent payments, utilities and fuel oil, food, and medication.
How to Participate:  Complete the participation form below up to the day of Hope du Jour but only those signed up by April 1 are guaranteed full publicity for their restaurant. By submitting this form, you are agreeing to donate 10% of your day's sales from May 1, 2018 to Crisis Control Ministry. Hope du Jour promotional materials will be delivered to your restaurant in mid-April. We recommend that you tag your advertising and e-newsletters with the Hope du Jour logo and date, inviting your customers to visit you on May 1 and "Dine out for a Good Cause." Awards will be presented to restaurants that raise the most money, the first-time participant that raises the most money, the restaurant with the largest percentage increase over their 2017 donation, and the restaurant with the most creative advertising or social media support for Hope du Jour.
---
Sign up by April 1 and you'll receive:
Your name in ads in the Winston-Salem Journal and other publicity.
Your name on the hopedujour.org website with a link to your site from the date of agreement through January 31, 2019.
Four-color posters, table tents, buttons and yard signs to help you promote Hope du Jour to your diners.
Your name on fliers distributed to 500+ congregations, businesses and other groups to drive traffic from our loyal supporters.
The appreciation of your staff and patrons for helping our neighbors who struggle to make ends meet.
If you have any questions, please send an email to give@crisiscontrol.org or call 336.724.7875 ext. 1040 or ext. 1044. We look forward to your participation in the 2018 Hope du Jour.