Eat Out. Take Out. Help Out.
Hope du Jour is Crisis Control's signature fundraising event thanks to these wonderful restaurants who donate a percentage of their proceeds on September 8 to help neighbors in financial crisis with food, medication, or housing and utility payments. Please support these restaurants and plan to eat in, take out, and help out throughout the day on Hope du Jour.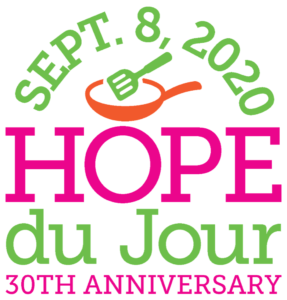 Winston-Salem Restaurants
Arigato Japanese Steak & Seafood
B.L.L. Rotisserie Factory
Bagel Station, Oakwood Dr.
Bagel Station, N. Peace Haven Rd.
Baked Just So
The Basil Leaf Thai & Sushi
Bib's Downtown
Bleu Restaurant & Bar
Bobo's Deli & Grill
Burke Street Pizza, Burke St.
Burke Street Pizza, Robinhood Rd.
Café Arthur's
Café Gelato, Reynolda Rd.
Café Gelato, Hawthorne Rd.
Cagney's Kitchen
Camel City BBQ Factory
Camino Bakery, Brookstown
Camino Bakery, W. Fourth St.
Carmine Italian Restaurant
The Carriage House Restaurant
The Carving Board
Cin Cin Burger Bar
Cloverdale Kitchen
Coppola's Pizzeria & Italian Restaurant
Cowboy Brazilian Steakhouse
Dewey's Bakery, Reynolda Rd
Dewey's Bakery, Thruway
Di Lisio's Italian Restaurant
Diamondback Grill
Downtown Deli
Duck Donuts
East Coast Wings & Grill, Country Club
Elizabeth's Pizza, Silas Creek Pkwy
Elizabeth's Pizza, University Pkwy
Fiddlin' Fish Brewing Company
The Flour Box Tea Room & Cafe (CLOSED Tuesday, eat out on Wednesday instead there for Hope du Jour)
Foothills Brewing
Forsyth Seafood Market & Cafe
Fratellis Italian Steakhouse
Goody's Restaurant
Grecian Corner
HakkaChow
Hero House, Inc.


Lewisville/Pfafftown Restaurants