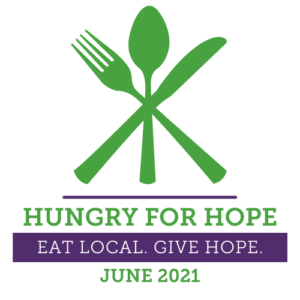 Plan Your Dining Experiences!
For the entire month of June 2021, dine out or take out to support the local food and beverage businesses that have previously participated in Hope du Jour. Many of these businesses have supported neighbors in crisis for over 15 years. Together, we can provide them with the hope that they can get through the effects of the COVID-19 pandemic. 
Winston-Salem Restaurants
6th & Vine
1703 Restaurant
Alma Mexicana
Arigato Japanese Steak & Seafood
B.L.L. Rotisserie Factory
Bagel Station
Bagel Station, II
Baked Just SO, Robinhood Rd.
Basil Leaf Thai & Sushi
Bernardin's Restaurant
Black Mountain Chocolate Bar
Bleu Restaurant and Bar
Bobo's Deli & Grill
Burke Street Pizza, Burke St.
Burke Street Pizza, Robinhood Rd.
Café Arthur's
Café Gelato, Reynolda Rd.
Café Gelato, South Hawthorne Rd.
Cagney's Kitchen
Camel City BBQ Factory
Camino Bakery, W. Fourth St.
Camino Bakery, Baptist Hospital
Camino Bakery, Brookstown
Canteen Market & Bistro
Carmine Italian Restaurant
The Carriage House Restaurant
The Carving Board
Charm Thai
Cin Cin Burger Bar
Cloverdale Kitchen
Coppola's Pizzeria & Italian Restaurant
Cowboy Brazilian Steakhouse
Dewey's Bakery, Stratford Rd.
Dewey's Bakery, Reynolda Rd.
Di Lisio's Italian Restaurant
Diamondback Grill
Dioli's Italian Market
Downtown Deli and Café
Duck Donuts
Earl's
East Coast Wings & Grill
Elizabeth's Pizza, Silas Creek Pkwy.
Elizabeth's Pizza, University Pkwy.
Fiddlin' Fish Brewing Company
Finnigan's Wake
Foothills Brewing
Foothills Tasting Room
Footnote
Forsyth Seafood Market & Café
Fratellis Italian Steakhouse
Goody's Restaurant
Grecian Corner
HakkaChow
Hero House, Inc.
Honky Tonk Smokehouse
Jeffrey Adams on Fourth
Johnny B's Grillhouse
The Katharine Brasserie & Bar
Kilwin's
Kimono Japanese Restaurant & Sushi, Country Club
Kimono Japanese Restaurant & Sushi, Summit Square
Krankie's Coffee
La Carreta Mexican Restaurant, Jonestown Rd.
La Carreta Mexican Restaurant, Peacehaven Rd.
La Carreta Mexican Restaurant, Robinhood Rd.
Little Richard's BBQ, Stratford Rd.
Local 27101
Los Toritos Mexican Cuisine
Mama Zoe Michael's
Mayberry Restaurant, Miller St.
Mayberry Restaurant, W. Fourth St.
Mellow Mushroom
Midtown Café and Dessertery
Milner's American Southern
Miss Ora's Kitchen
Mission Pizza Napoletana
Mozelle's
O'So Eats
The Old Fourth Street Filling Station
P.B's Takeout
The Porch Kitchen and Cantina
Putter's Patio and Grill
Quanto Basta Italian Eatery & Wine Bar
A Quiet Pint Tavern
Radar Brewering Company
Real Q
River Birch Lodge
Rooster's, a Noble Grille
Ryan's Restaurant
Salem Kitchen
The Sherwood
Silvia's Honey Tree
Sixty Six Pizzeria Grill and Taphouse
Springhouse Restaurant Kitchen & Bar
Sweet Potatoes – A Restaurant
Szechuan Palace
Thai Harmony
TJ's Deli & Grill
Tre Nonne Italian Restaurant
Village Tavern, Griffith Road
Village Tavern, Reynolda Village
Vincenzo's Italian Restaurant
Waldo's Wings
Washington Perk & Provisions
West End Café
Whitaker Square Gourmet Pizza
Yamas Mediterranean Street Food
Young Cardinal Café & Co.

Clemmons Restaurants
Lewisville/Pfafftown Restaurants
Kernersville Restaurants
Rural Hall Restaurants
Walkertown Restaurants